THEATRE IN THE DARK'S INAUGURAL PRODUCTION WILL BE THE CHICAGO PREMIERE OF NOIR THRILLER THREE STORIES UP, PERFORMED ENTIRELY IN TOTAL DARKNESS
THREE STORIES UP // THEATRE IN THE DARK
WRITTEN BY MACKENZIE GORDON
DIRECTED BY COREY BRADBERRY
PERFORMANCES OCT 24 - NOV 9, 2019
"THE CHURCH @ THORNDALE" (1244 W THORNDALE AVE—less than two minute walk from Thorndale Red Line)
After her husband is killed, a transit cop finds herself mixed up in Vancouver's criminal underground. A fast-paced twister of a play that keeps you guessing until the end. Come with us into the dark and let your imagination run wild…
An 80-minute noir mystery set completely in the dark, the actors play nearly a dozen characters including cops, priests, journalists, and grifters in a theatre experience critics have called "innovative," "elaborate," and "viscerally compelling"!
SYNOPSIS
Beatrice, a Vancouver transit cop, discovers both her husband's dead body and his history as an undercover police officer working deep within Vancouver's criminal underground. In search of the killer, she recruits her late husband's last known informant, a drug runner who carries secrets of his own. The two embark on a hair-raising investigation through the city's colorful characters in search of justice… and revenge.
One of the oldest traditions in noir storytelling…
…is the use of setting as a main character. No set designer could outdo the descriptive language of Raymond Chandler or Dashiell Hammett. Three Stories Up leans so hard into the words, we decided to turn out the lights altogether.
Our story uses compelling characters and tough-guy poetry to pierce through the dark. Three Stories Up: Theatre in the Dark is experiential theatre intended for audience members seeking a thrill in the pitch black. And yes, we do mean 100% darkness.
Inspired by hard-boiled paperback novels and the radio mystery plays of the 30s and 40s, Three Stories Up invites audience members to tune out the visual barrage and explore the case of Beatrice Dulaurier. We've combined recorded sound, live foley, and the human voice -- in front, beside, and behind you -- to create a three dimensional soundscape, and an evening audiences will never forget.
Exceptional in engaging the audience; unique in offering low-vis audience members the same experience as the rest of the theatre, Three Stories Up: Theatre in the Dark was already a smash in Canada, don't be left in the dark when it comes to Chicago.
Five Reasons to see:
Three Stories Up
Three Stories Up is an INCREDIBLE MYSTERY filled with compelling characters, whip-smart dialogue and gut-wrenching action.
Three Stories Up is LIVE and IN THE DARK, with a story that's a perfect match for Chicago's Halloween season. Our actors perform the story in front of, beside, and behind your seat; and no, you don't have to worry about anyone reaching out and scaring you--this is a detective story and not a haunted house!
Three Stories Up can be experienced BY YOURSELF or WITH OTHERS! A perfect solo outing or date night must-see. Plus, if you order a drink before the show a friendly usher will deliver beer or wine to your seat just before the play begins!
Three Stories Up features a STRONG FEMALE PROTAGONIST. Beatrice is a cop on the hunt, and she's run out of reasons to go along quietly, no matter who that pits her against.
Three Stories Up may be FULL OF SECRETS, but its location is a breeze to find! Only a two-minute walk from the Thorndale Red Line, our producing partners at "THE CHURCH" AT THORNDALE (1244 W THORNDALE AVE) are honored to host Three Stories Up // Theatre in the Dark as its inaugural public performance!
praise for
'three stories up'
AUDIENCES IN CHICAGO REACT:
"THE ULTIMATE AUDIO-BOOK EXPERIENCE… live and immersive"
"…a really extraordinary experience. Everything about it, from the evocative dialogue to the the acting to the sound effects, was top-notch. And the solution to the whodunit was a totally surprising plot twist. This is definitely the kind of unique theatrical endeavor that we need more of! I'm planning to see it (well, listen to it) again"
"I've been attending Chicago storefront theatre for 30 years; I've never seen anything like this."
fOR the PRODUCTION:
"Three Stories Up is a thriller that keeps its audience guessing, but the originality behind the production--and its precise execution--makes it a must see as one of Chicago's more creative theatre adventures… Theatre in the Dark masterfully succeeds in bringing to life a story that is sure to be different for each end everyone in attendance." —Ken Payne, Buzz Center Stage
"…the execution of this set up was pretty near perfect. It really was startling to not be able to see anything the entire time… the sound happening all around you is something that wouldn't come out the same way if I were listening with headphones." —Kevin Curran, Chicago Theatre Review
"Three Stories Up has the vibe of iconic pre-TV radio dramas, melded with the immediacy of live performance, and the pure joy of being read to as a child. Highly recommended… pretty ingenious." —— Bonnie Kenaz-Mara, CHIll Live Shows
FOR THE PLAY:
"Viscerally compelling, Three Stories Up makes you pay attention—and it pays off. The plot is satisfyingly complex, and phrase by phrase Gordon's writing is gorgeous… Stroke of genius to set it in the dark… very, very rewarding." -- Colin Thomas, Vancouver Greenroom
"Three Stories Up finds innovative ways to entertain in a pitch-black theatre. An elaborate murder mystery… it's a trip worth taking. Three Stories Up puts the noir in noir." -- Kathleen Oliver, Georgia Straight
"Gordon's words, helped immensely by the performances, paint vivid pictures that transcend gimmick." -- Mark Robins, Vancouver Presents
"Immediately, this show is a fun experience… [bringing] the ever-adaptive noir genre to the stage, the region and this decade. Three Stories Up is a unique experience that will keep audiences guessing all the way through." -- SadMag
from the low-vision community:
From the low-vision community:
"I would happily attend another production where the audience members are all on an even playing field. The entire experience created some interesting discussion for the ride home."
"I felt like I was on a level playing field with all the members of the audience who were sighted. The acting was quite well done and I was impressed that they did not bump into the audience or chairs as they moved so adeptly around the room. Personally, we should have more of this type of play."
from general audiences:
"It was like listening to the old BBC radio plays that I grew up with—though my childhood radio wasn't playing in three dimensions!"
"Noirish, eerie, moving… is a must-see! Do not miss."
"I highly recommend it. Uniquely immersive. Intimate and aurally spatial."
Some of how we do what we do is a secret, but here's more information on our major players:
BETHANY ARRINGTON (Beatrice DeLaurier & others) is an actor, model, and voice over talent originally from Carmel, Indiana. She is a proud member of the Artistic Council and ensemble of NoMads Art Collective. Bethany is very pleased to be working with Theatre in the Dark for the very first time. She is represented by Lily's Talent. Hear and see more of Bethany at bethanyarrington.com.
COREY BRADBERRY (Director, Sound Design) is a stage director committed to clear, efficient, and compelling storytelling. A Chicago newcomer, he most recently returned to his native Atlanta to direct Murder! at The Strand II: Dark Matters, an immersive sci-fi murder mystery which puts the audience in the central role of Investigator. Chicago: THE LAKES, The Man That Corrupted Christmas (Inertia Theatre Project); 24-Hour-Playfests (iO, Eclectic Full-Contact); Simpler Days (Woof Pack Comedy). Atlanta: Murder! at The Strand (Earl and Rachel Smith Strand); The Devil Tree, The Theory of Everything (The Collective Project Inc.); The Autobiography of Sir Wm McGonagall (Atlanta Fringe). Education: Master of Fine Arts in Directing (Theatre), University of Southern Mississippi; Bachelor of Arts in Theatre & Performance Studies (Performance Concentration) from Kennesaw State University; additional training from Dell'Arte International School of Physical Theatre, Kennedy Center MFA Playwright's Workshop + Directing Intensive, Second City Training Center. Corey was a 2015 National Directing Fellow through the Kennedy Center American College Theatre Festival and was awarded the 2013 Emerging Artist Award for Theatre from the City of Atlanta's Office of Cultural Affairs. He is currently a member of the Second City's Advanced Directing program. coreybradberry.com
MACKENZIE GORDON (Gunnar Bjornsen & others; Playwright) has been writing plays for ten years. His work has been published in Discorder Magazine, Carte Blanche, and Speakeasy Theatre's Pull Anthology. His plays have been performed by ITSAZOO Productions (Debts, Five Red Balloons), Western Canada Theatre (The Ballad of the Burning Lady), Upintheair Theatre (Visitors) and Level-Headed Friends Productions (Six Fine Lines; Shake the Sheets!; Dead Celebrities). He is a threetime writing contributor to Sum Theatre's Pull Festival and a four time Jessie Richardson Theatre Award nominee. Three Stories Up was workshopped during the 2014 Playwrights Theatre Centre Colony, dramaturged by author Michael Springate. www.mackgordontheatre.com
PRODUCERS: Corey Bradberry, Mackenzie Gordon
ASSOCIATE PRODUCERS: Kelly Greene, James McDougald, Marjorie Muller, Zachary Parkhurst
PUBLICITY: John Olson Communications
performance DATES
Due to the intimate nature of the event, seating is limited.
Tickets start at just $10 and range from $10-35 depending on when you join us at the show.
25 years old or under? Then you can purchase a $20 ticket for ANY performance (subject to availability). Don't forget to look for the PROMO CODE listed when purchasing your ticket! Remember to bring your ID the night of the show.
Chicago Theatre Professional? Contact us at info@theatreinthedark.com for special industry discount (subject to availability).
DATE
Th 10/24
Fr 10/25
Sat 10/26
Sat 10/26
Sun 10/27
Wed 10/30
Th 10/31
Fri 11/1
Sat 11/2
Sun 11/3
Wed 11/6
Th 11/7
Fri 11/8
Sat 11/9
TIME
8pm
8pm
3pm
8pm
7pm
8pm
8pm
8pm
8pm
7pm
8pm
8pm
8pm
8pm
PERFORMANCE INFORMATION
PREVIEW PERFORMANCE 1
PREVIEW PERFORMANCE 2 (SOLD OUT)
PREVIEW PERFORMANCE 3
PREVIEW PERFORMANCE 4
FINAL PREVIEW PERFORMANCE 1 (PRESS OPENING)
FINAL PREVIEW PERFORMANCE 2 (PRESS OPENING)
PERFORMANCE
PERFORMANCE
PERFORMANCE
PERFORMANCE
PERFORMANCE
PERFORMANCE
PERFORMANCE
FINAL PERFORMANCE
OUR HOME: "THe church @ Thorndale"
(1244 W. THORNDALE AVE)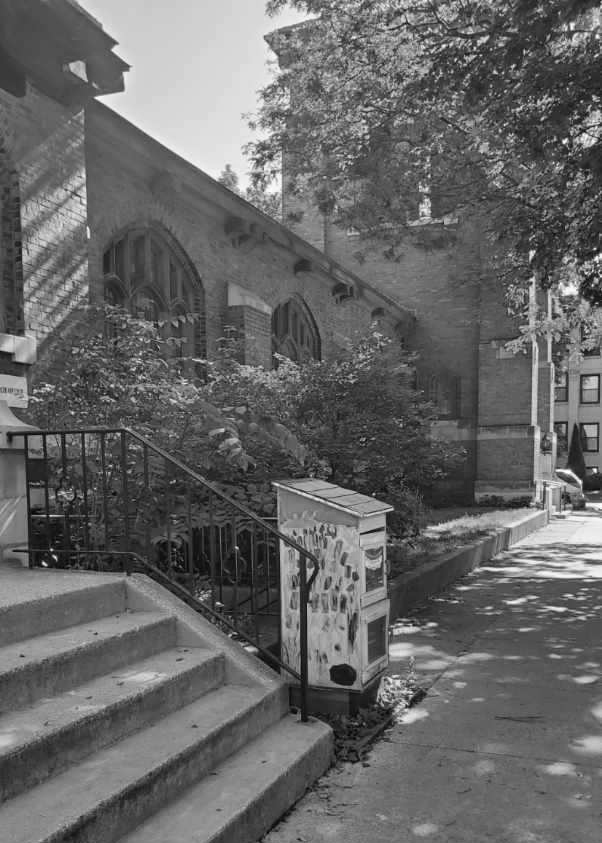 Once upon a time in Chicago, a pair of adventurous property owners met a pair of ambitious theatre producers…
***
Located at 1244 W. Thorndale Ave, your Three Stories Up // Theatre in the Dark experience takes place inside a SECRET LOCATION within the building formerly known as the Bethany Lutheran Evangelical Church, literally less than a minute's walk from the Thorndale Red Line station in Edgewater.
After gathering with the rest of the audience in our lobby, you'll be (willingly) blindfolded and led as a group into our SECRET performance space. After you're seated and drinks are served, you'll be invited to remove your blindfold, remain in the darkness, and let your imagination run wild as our actors bring the mystery to life in front, behind, and around you…
***
PARKING: neighborhood, street parking available
TRAIN: Red Line—Thorndale station
DIVVY BIKES: station located 1 block west at Thorndale/Broadway
BUS ROUTES: 36 (Broadway), 22 (Clark)
NOTE ON NON-ADA ACCESSIBILITY
Due to the historic nature of our space, our performance space inside The Church @ Thorndale is only accessible after climbing a few steps and is NOT in compliance with ADA standards for that reason. While plans were set for the venue to install full wheelchairs ramps in time for the show, unfortunately those plans have been delayed, which we realize may cause an issue with some of our patrons.
Provided patrons are able to climb a few steps, we can also provide physical assistance from ushers, carry/lower separate wheelchairs, and can easily accommodate wheelchairs in the performance space itself.
If you have mobility concerns or would like to check on the accessibility of our space, please contact us ahead of time at info@theatreinthedark.com or 312-285-0314.
The venue managers do apologize, and have plans in place to work towards ADA compliance over the next year as they continue renovating the building!